How to connect to Internet by Airport base stations
スポンサーリンク
This entry is about Airport base station.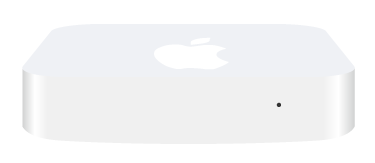 Airport Express,Airport Extreme and Time Capsule are wireless router called AirPort Base Station.If you have these, you can connect to the Internet on Wi-Fi. It's easy to setup and use.Before use the AirPort Base Station,you have to set it.
AirPort Utillity has some versions. This entry uses AirPort Utillity 6.1. AirPort Utillity 6.1 works Mac OS X Lion 10.7.3, or later. If you use Mac OS X Leopard or Snow Leopard, AirPort Utility 5.6.1 for Leopard/Snow Leopard
If you need AirPort Utillity 6.1, you can download at Apple's web site. Install AirPort Utility 6.1 for Mac.
スポンサーリンク
Start to configure AirPort Base Station
Plug the ethernet cable to AirPort Base Station's WAN port from modem or data service unit (DSU).
Plug the power cable
Control your Mac
Open AirPort Utility.app from the /Applications/Utilities folder.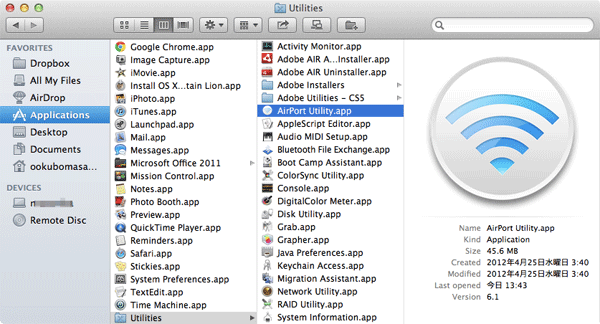 The AirPort Utility.app can open from Launchpad.app, too.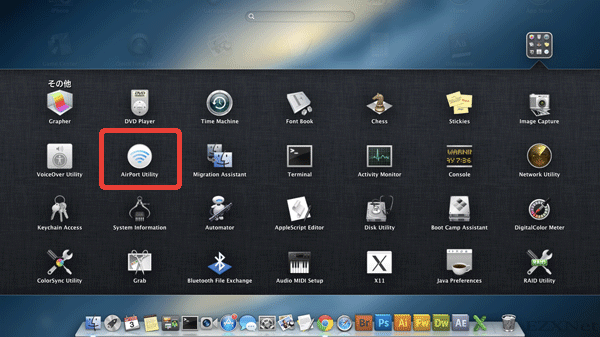 It sometimes happens that-when your Mac catches AirPort Base station Wi-Fi waves,AirPort Base station icon appear on your AirPort Utillity.
Check the AirPort Utility.app version.
Open AirPort Utility and click About AirPort Utility on menu bar.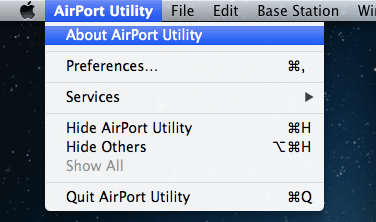 Appearance AirPort Utility version on your screen.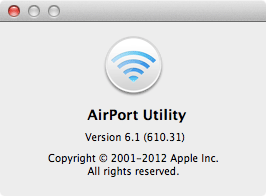 Launched AirPort Utility.app.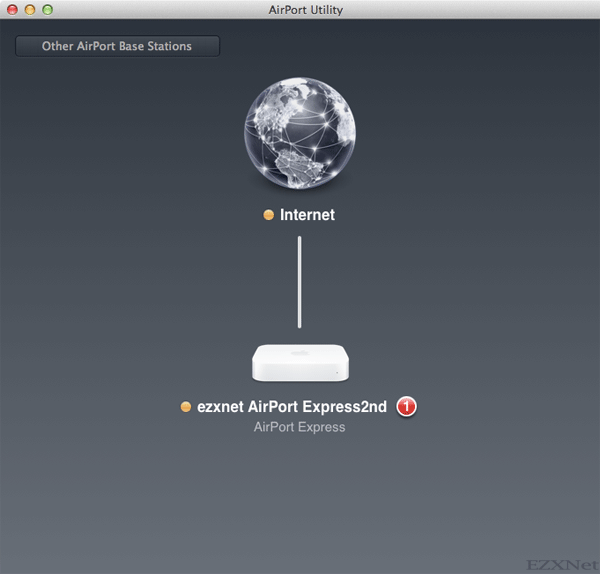 Click your AirPort Base station icon and click Edit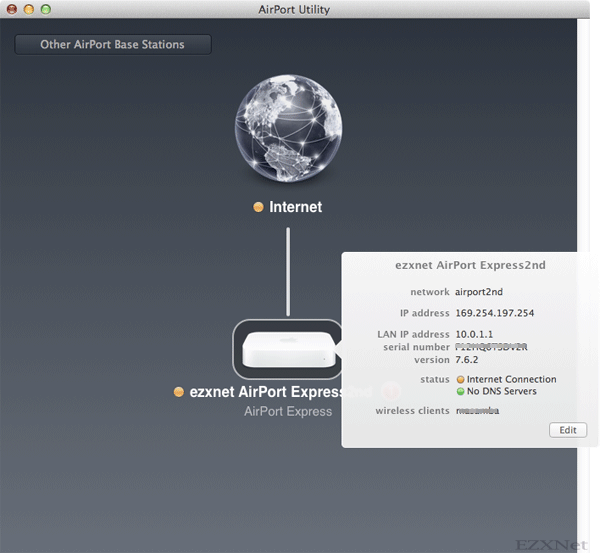 Base Station tab
Base Station tab sets your AirPort Base station name and password.
Base Station Name is necessary to distinguish between AirPort Base Station and other Base Station. Type your AirPort Base Station's name on configured network.
Base Station Password is your AirPort Base station password. It needs open or set up this Base Station on AirPort Utillity.
Select the Remember this password in my keychain checkbox to save the password in Keycain Access.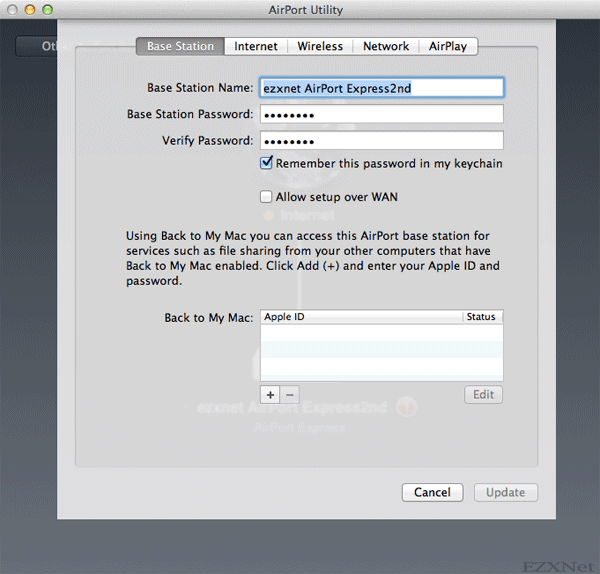 Internet tab
Internet tab sets configure mode on AirPort Base Station
Connect Using : Select the one DHCP or Static or PPPoE.If your internet line needs PPPoE, you select PPPoE.
In this entry uses PPPoE.
IPv4 address: Global IP address of obtained from internet service provider.
Enter your username in the field labeled "Account Name" and "Password". These are provided to the internet service provider.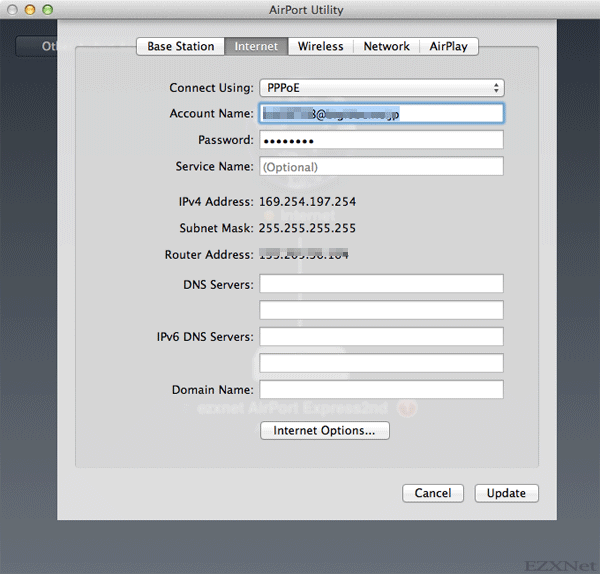 Wireless tab
Wireless tab sets Wireless Netword Name (SSID),Wireless Security and other.
Network Mode: Select Create a wireless network and enter it.
Wireless Network Name: Wi-Fi network name.
Wireless Security: Select WPA/WPA2 Personal.
Wireless Password: Create Wi-Fi network password and enter it.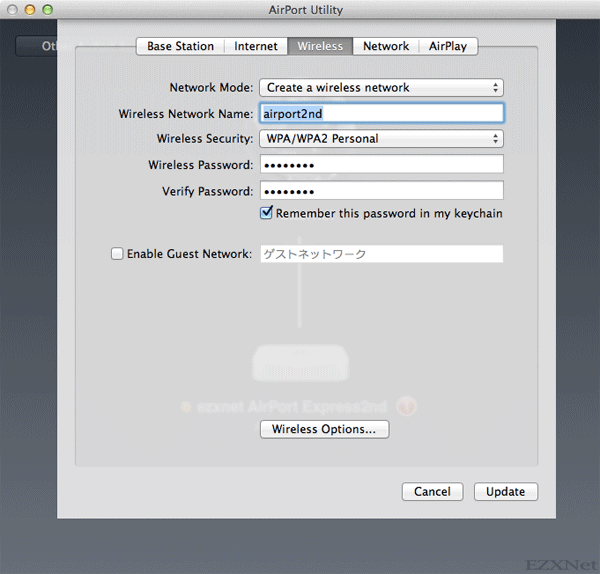 Network tab
Network tab sets Router mode. It has set the PPPoE in the Internet tab, so it sets nothing.
Click Update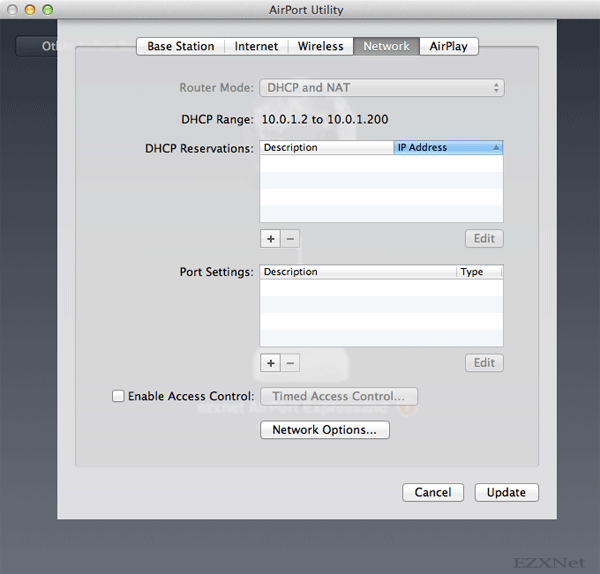 The message "The device and its network services will be temporarily unavailable. Are you sure you want to continue?" will appear on the screen, so click "Continue".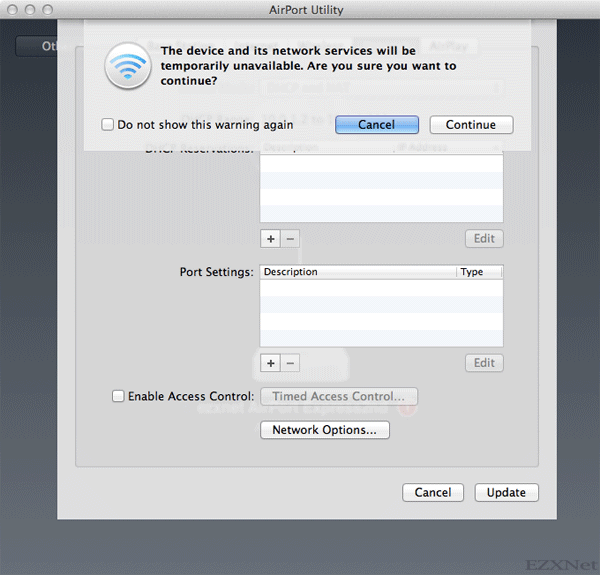 Free from error AirPort Utillity